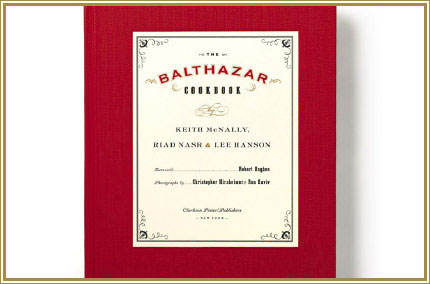 So last weekend, I met friends at Balthazar in SoHo. After exiting a taxi on Spring Street, we literally had to fight our way inside.  There were people milling everywhere.  Clearly a popular Sunday venue.  Once inside we discovered that our friends hadn't arrived yet, so we fought our way back outside and settled on one of the benches lining the wall that fronts the restaurant.  I have to admit, it was a spectacular fall morning and it was great fun to sit and
watch the people go by.  And once our friends arrived we were gratified to find that even though the place was still overly packed, our reservation was promptly honored and we were shown to a lovely table.
Like all New York restaurants the tables were squeezed together and we were a little too close to our neighbors for comfort, but
we quickly forgot as we began to peruse the menu and catch up.  My first thought on entering the cavernous American bistro was that
it looked a lot like Artisanal, the Terrance Brennan's cheesery in Murray Hill.   Which isn't a bad thing.  Airy and, squashed tables aside, comfortable, the place is all marble, velvet and brass.  With the soaring ceilings of a building converted from a leather wholesaler's warehouse.
Opened in 1997 by Keith McNally (of Patis fame), Balthazar's co-chefs are Lee Hanson and Riad Nasr.  Both men have resumes that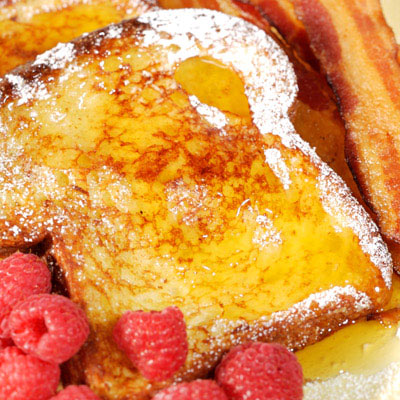 include some of New York's finest dining establishments.   And the restaurant is both a tourist draw and a neighborhood favorite.
The brunch menu, with a definite Parisian slant, offered entrees for both breakfast and lunch.  I chose the Brioche French toast with smoked bacon.  And although the French toast had a lovely touch of cinnamon in the batter, I found it dry and slightly overcooked.  My friend however, had the
scrambled eggs in puff pastry with wild mushrooms and asparagus, and it not only looked wonderful, it apparently tasted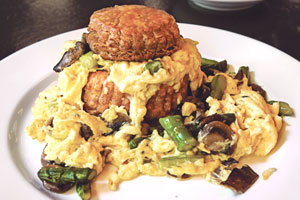 fabulous as well.  The other egg dishes ordered were tasty as well.
While I'm not sure that I'd make the effort to travel downtown again just to go to Balthazar's, I'd definitely recommend it as a fun way to spend a fabulous fall morning with good friends.  And I am interested in trying out the bakery next door.  The pastries are supposed to be fabulous!
Balthazar, 80 Spring Street, 212.965.1414, http://www.balthazarny.com