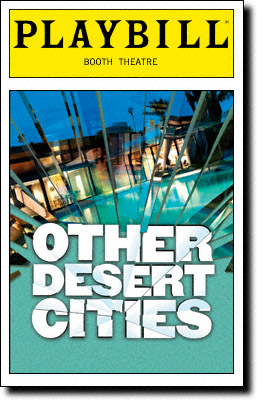 So last week I was lucky enough to get to see Other Desert Cities at the Booth Theatre.  Stockard Channing and  Rachel Griffins, both praised in the original cast have departed, but their replacements are every bit as wonderful.
Jon Robin Baitz's play, set in Palm Springs, is a family dramedy with all the right ingredients.   The story starts of almost innocently and builds to an amazing climax with all emotions laid bare.  The five person cast consists currently of Lauren Klein as the matriarch of the family.   Stacy Keach
as her high profile husband.  Elizabeth Marvel as her troubled daughter.  Judith Light as her screwed up sister.  And Justin Kirk as her son.
Opening on Christmas day in 2004, the story centers around the homecoming of Brooke (Elizabeth Marvel) and the ensuing drama that unfolds around her decision to publish a new book.  As is often the case with families, the past in this play is as relevant as the present and both seem to overshadow the future.
The first act sets the stage for the revelations of the second with ultimately everything stripped to the bone.  The family's secrets revealed.   And it is a journey that the writer has crafted carefully.  Peeling the onion slowly as we build to the climax.
Highly recommended, I particularly enjoyed Ms. Light and Ms. Klein's performances.  Although the ensemble was marvelous and the piece would not have been the same had any of them been lacking.  Definitely a wonderful way to spend an evening on Broadway.
Booth Theater, 222 West 45th St, (between 7th Ave & Broadway)