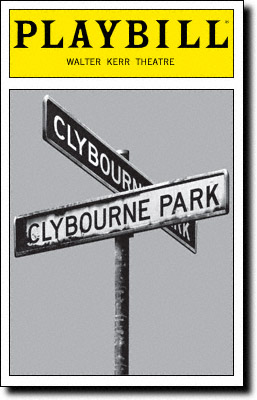 So, Clybourne Park won best play at this year's Tony Awards.  And I was lucky enough to have had the chance to see it.   Playing at the Walter Kerr Theatre, I'm delighted to say that I was in full support of the win. And that's with a lot of other fabulous plays in the running.  Some of which I've already talked about here.
Written by Bruce Norris, Clybourne Park is a stirring dark comedy that weaves a story around the people occupying a house in both 1959 and 2009.  The biting play examines difficult subjects with both poignancy and wit. Neighborhood identification and race are key components of the play.  But it is the characters that make the sometimes difficult topics resonate.
In 1959, the house is occupied by a middle-class white couple who have recently survived
the death of their son.   As they pack up their house, intending to leave their painful memories behind, their neighbors drop by with concerns about the people who have just bought the house.  Present also are the couple's maid and her boyfriend, bringing a subtext to everything that's said, and finally building to an expected but still heartrending climax.
The second act opens in 2009.  The neighborhood is "reemerging" and the white couple buying the house meet resistance from the neighborhood coalition who very much want to retain the flavor of the old neighborhood.  Again tension underlies laughs, as we see the situation from the reverse side.   And face the reality that although fifty years has passed not all that much has really changed.
The cast was marvelous, especially Jeremy Shamos and Annie Parisse.   In particular in the first act, when Ms. Parisse's character is deaf, the added layer of subtext is particularly well-done.  Christina Kirk and Frank Wood were also excellent.  Mr. Wood in particular plays physical comedy very well.  Rounding out the cast were Crystal A. Dickinson, Damon
Gupton and Brendon Griffin.   Mr. Gupton was superb in both acts.  And he gave his character both emotional depth and believability.   The scene where Ms. Dickinson and Mr. Gupton carried the trunk was marvelous on so many different levels.
It isn't easy to write about difficult subject matter.  And it's even harder to make what can be uncomfortable at the same time funny.  And Mr. Norris is successful in both making us laugh and making us think.  Bravo!
Clybourne Park, Walter Kerr Theatre, 219 West 48th Street.  (212) 239-6200