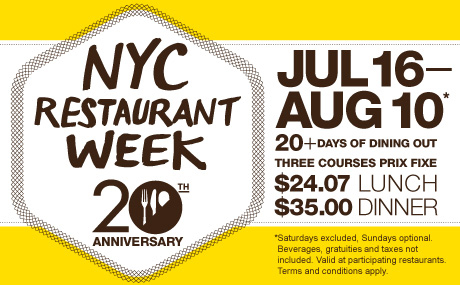 So one of my favorite things in New York is when they have Restaurant Week.  Great restaurants throughout the city offer a fixed price menu for both lunch and dinner with and appetizer, entrée and dessert.   It's a great chance to try out new places, go to a place you normally wouldn't splurge for, or just go back to an old favorite to try new dishes.   This summer the original Restaurant Week actually ran three weeks and then many of the restaurants participating extended their run until Labor Day.
As you may or may not know, I've been watching what eat, so that means that Fridays and Saturdays are my only non-restricted eating days—which meant that for Restaurant Week, which typically does not include Saturdays, that Fridays were my only option.  So suffice it to say we've had a great fun of Friday meals.  So here's the run down on where we've been:
Week 1
Mr. Chow.  A high-end Asian fusion restaurant, Mr. Chow has several locations including one right down the block from us.  We've walked by it many times, and seen the limos and town cars waiting outside for diners enjoying the food.   So when I saw that it was available for Restaurant Week, I knew we had to give it a try.  The wait for our reservation was short, the restaurant beautifully appointed, and the wait staff friendly and helpful (which sadly isn't always the case on Restaurant Week).  The first course—a spicy noodle dish was my definitely favorite.  It was followed by a green shrimp dish (so named for the herbs the shrimp was coated in).  Although the dish was tasty, the shrimp were very small and not as tender as I would have liked.  My husband's dish was quite spicy, which was perfect for him, but not for me—so I didn't have a taste.  Dessert was a medley of ice cream.  Nice, but again underwhelming.  All in all while I would consider going there again, I wouldn't put it in the list of my favs.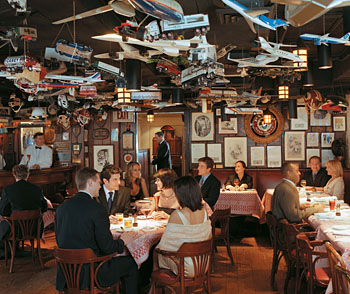 Week 2
21 Club.  Okay, honestly, I've been here before and love it.  So wasn't thinking much about going other than knowing I'd enjoy the food.  But have to say that the restaurant week menu was fabulous.  I started with an heirloom tomato salad that was delicious.  And then moved on to a grilled flat iron steak that was cooked to perfection.  And I'm picky about my steak.  The night was finished off with an excellent crème brulee with blueberries and a lemon shortbread cookie.  We ate downstairs, and the service was tremendous, the atmosphere, as always, fun, and I thoroughly enjoyed the evening.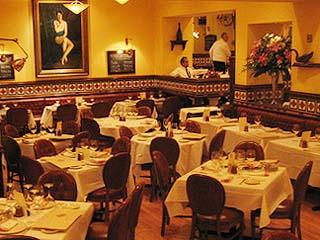 Week 3
The Post House.  I'd heard a lot about the Post House.  Old NY and clubby steak house (which I happen to love), so figured I was in for a treat.  However, of all the places we've been over the course of this extended Restaurant week, it was my least favorite.  Which isn't to say that it was bad, just neither interesting nor memorable.   I started with a goat cheese tart, which was essentially a hunk of goat cheese on top a small round of puff pastry.  Basically it was like eating cold cheese right from the refrigerator.  Uninspired and disappointing.   The steak was delicious, but compared to the week before at 21, lacking—although my husband loved his.  But my key lime pie was delightful.  A nice ending to what was a lovely if not particularly memorable evening.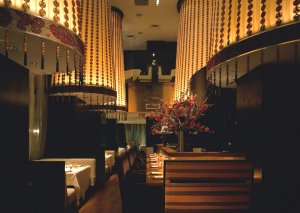 Week 4
Megu.  This was the week we'd planned on going to Bobby Flay's Mesa for our anniversary.  But when I realized that Restaurant Week had been extended, I changed our reservations from Saturday to Friday, and then when we decided to celebrate with our daughter instead of just the two of us (we went to the Village Vanguard on our own on that Saturday and had a fabulous time) I knew that Southwestern food wasn't her favorite.  So I shifted gears, and made reservations at Megu (in the Trump Tower on First Avenue).  And I wasn't disappointed.  This was definitely in my top two meals.   I started with a crispy kanzuri shrimp.  Coated with some kind of peanut sauce, these were so good, I could easily have had them in a larger portion for dinner.  AMAZING.  Next up, Premium Kobe Washugyu Sirloin Steak.  Marinated, it was tender, perfectly cooked and served on a block.  Again absolutely wonderful.   And for dessert, a delightful green tea crepe.  Service was excellent, and the appointments were lovely.  Definitely a restaurant I will go to again.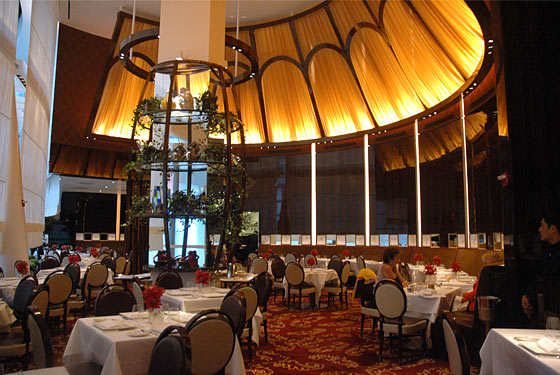 Week 5
Le Cirque.  This one started on a bad note I have to say because my husband lost his wallet.  And so we lost our reservation, but when I realized I could still get us in later that night, we rebooked and returned after all the hassle of dealing with the mess of losing the wallet.   I have to say the restaurant is definitely an island of calm.  And after the beginning of the night, it was a lovely way to end.  That said, compared to some of the other places we ate, the wow factor just wasn't there.  Still the staff was lovely, and the food was excellent.  I started with an heirloom tomato salad with sucrine, cucumber, capers, marjoram.  It was excellent.  And every bit as delightful as the one I had at 21.  Next up roasted chicken with fricassée of fingerling potatoes, corn, scallions, bacon, jus basquaise. The chicken was well cooked, but nothing out of the ordinary. However, the purple potatoes were delightful.  And for dessert, I had the crème brulee.  I am a HUGE crème brulee fan, and I do have to say that this was one of the best I've ever had.  So kudos on dessert at Le Cirque.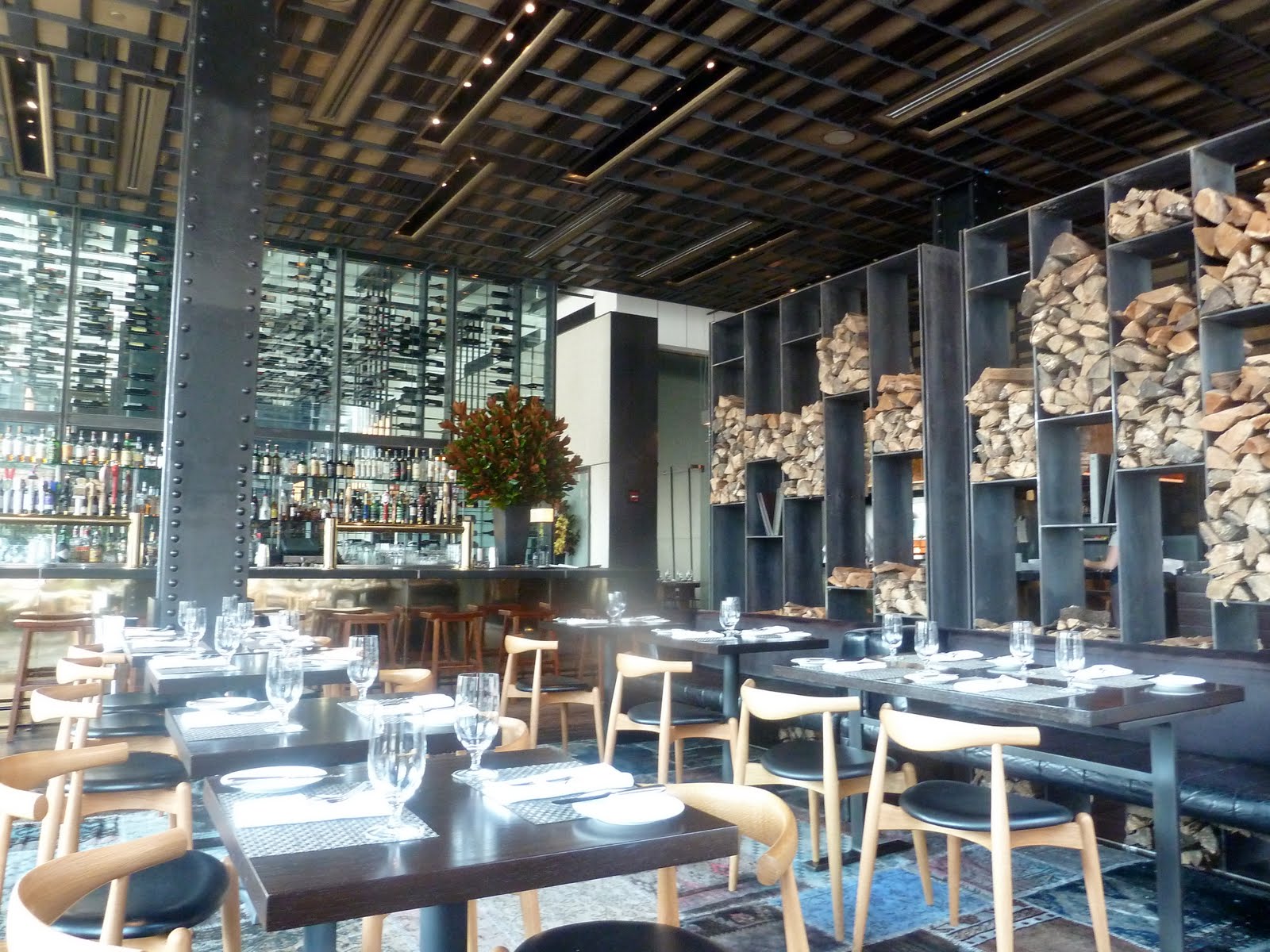 Week 6
Tom Colicchio and Sons (Tap Room).   I'm a huge fan of Craft, so was eager to try this restaurant across from the Chelsea Street Market and under the Highline.   And I was not disappointed.  This restaurant, like Megu comes in as one of my top two for this summer's Restaurant Week.  More relaxed than some of the other places we ate, it was still elegant and the staff was attentive and well-informed.  My husband enjoyed a flight of beer and I had a lovely Bordeaux.  I started with a cold corn soup with truffle oil and grilled corn kernels.  It was fabulous!  My husband had a beef tartare with a smoked egg vinaigrette and homemade potato chips.  Equally fabulous, although I preferred mine just slightly to his.  After much debate, because it all looked so fabulous, for my entrée, I had the roasted hanger steak with potato puree and bone marrow butter.  Melt in your mouth meat.  It was served with spigarello, greens of some kind, slightly resembling spinach but not as bitter.  Very lovely.   My husband had the roasted pork belly with succotash and okra.  He enjoyed every bite.  And then for dessert—I had beignets with fudge sauce and vanilla ice cream.  Perfection.  Seriously great meal.  I'm definitely going back.  A lot.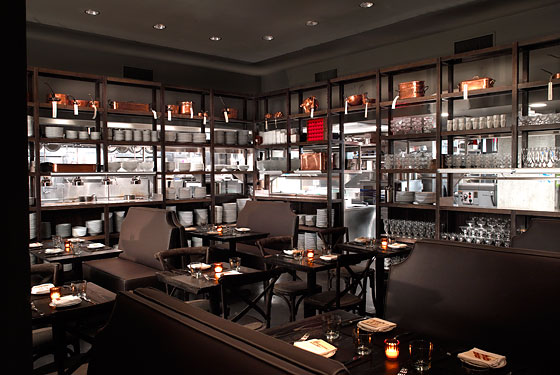 Week 7
DGBG.  We haven't actually been yet… this one is on tap as our last Restaurant Week restaurant, this weekend.  But I am a fan of Daniel Boulud and looking forward to trying his East Village restaurant.  It's Lyonnais-inspired bistro cooking.  So I'm expecting great things. Okay–so went to DGBG and must report it wasn't the experience I'd hoped for.  While the food was good the service was not.  Maybe because it was  Friday night and it was really busy?  But still… And although I enjoyed the meal, nothing really stood out as exceptional.  Maybe I had just been to too many other wonderful places.  Still it was a great month of eating high on the hog as we say in Texas.  So well worth the effort!