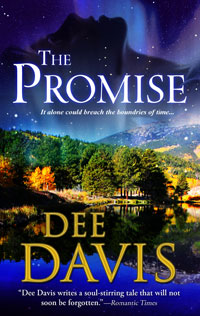 ***SPECIAL PRICE for a LIMITED TIME*** Get Dee Davis's Prism winning time Travel The PROMISE for just 99 cents instead of regular retail price of $4.99. Sept 15 – Sept 18 only!
Murder, greed and the long shrouded past circle through time to unite Michael and Cara in what will become a fight for their lives.  Along the way they learn that things are not always as they appear and that love has the power to change the very fabric of time.
Also by Dee Davis:   Everything In Its Time and Wild Highland Rose.