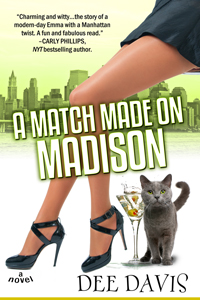 A Match Made on Madison
Manhattan glitterati with a desire to find the perfect mate have a new champion in matchmaker Vanessa Carlson.  With her fledgling business giving her biggest rival – friend and mentor Althea Sevalas – a run for the money, Vanessa's services are definitely a hot commodity.
To prove once and for all who's the best matchmaker in town, Vanessa and Althea enter into a competition to see who can score downtown playboy Mark Grayson as their client and send him walking down the aisle.  Once a winner is crowned in this very public endeavor, there will be no question as to who rules Manhattan's matrimonial mergers.  But emotions often have a will of their own, and Vanessa learns that rules don't always apply.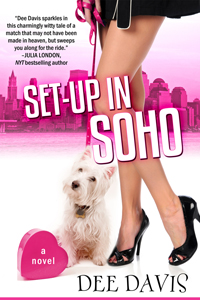 Set-Up in SoHo
When Andrea Sevalas' long time boyfriend announces he's seeing someone else, Andi's thrown for a loop—well, actually, down a cellar.  Head throbbing and nose out of joint, she's rescued by one of New York's finest – attorney's that is.  Ethan McCay —  the upper east side heir to the kingdom of Manhattan.  But Andi isn't interested in princes.  At least not the uptown variety.  She's a downtown girl with no time for Park Avenue royalty.
So what's a fairy godmother supposed to do?   Well, if she's Andi's Aunt Althea (the infamous Manhattan matchmaker) a little manipulation is in order.   After all, even Cinderella needed a little prodding to go to the ball.  And with a little help from her friends, Althea's plan goes charmingly – until the clock strikes midnight and the truth is revealed.