I am pleased to announce a brand new boxed set of time travel novels including my very own Everything in its Time!  I'm so excited to be included with some of my very favorite authors.  Christina Skye, Theresa Ragan,  Jennifer Blake, and Monique Martin:
Enter into worlds of passion where fated heroines and steadfast heroes fall into loves so great not even time can tear them apart.A special-edition bundle of 4 full-length novels and 2 novellas — all standalone reads — by some of the most popular authors writing romance and time travel today.
______________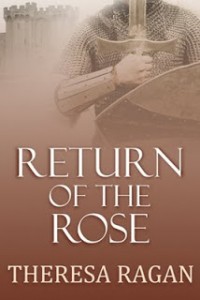 RETURN OF THE ROSE – Theresa Ragan
With one of twin sisters dying, the Witch of Devonshire transports the ailing babe from Medieval England to the 20th century. Twenty-four years later, Morgan is whisked back again. Mistaken for her twin, Amanda, Morgan is forced to marry King Henry's favored knight, the Lord of Braddock Hall. Abandoned by his mother and unloved by his father, Derek Vanguard has a heart so cold only one woman can melt it — if she can accept that this is the time where she belongs.
______________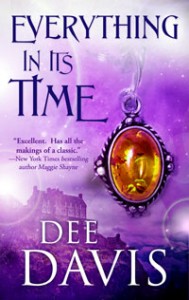 EVERYTHING IN ITS TIME (Time After Time Series) – Dee Davis
Eight years ago while vacationing in Scotland, Katherine St. Claire shared a glorious night of passion with a stranger, who promptly disappeared come morning. In the 15th century, Iain Mackintosh remains haunted by the memory of his greatest love who vanished, leaving behind only a cairngorm earring as proof she was ever there. Iain's family pressures him to forge a sensible marriage. Then Katherine suddenly returns to him and reveals where — and when — she's from…
______________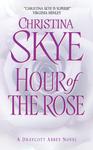 HOUR OF THE ROSE (A Draycott Abbey Novel) – Christina Skye
Archeologist Kelly Hamilton follows a trail of secrets to the hauntingly beautiful Draycott Abbey, tracking a priceless sword. Ex-Royal Marine Michael Burke only wants Kelly gone. But in the nights that follow, Kelly's gift of second sight tells her this man is no stranger. She has known him long before: as his ardent lover… Soon the two are caught in a sensuous spell of white-hot desire. And all the while an old and dangerous enemy waits to strike.
______________
FALLEN (A Draycott Abbey Novella) – Christina Skye
In a night of dreams and danger, a Crusader knight is torn from the past on a mission of honor — and deadly revenge. Only through magic can he protect the innocence of a stubborn woman who has learned to trust no one. While the deadly fog of a London graveyard closes around them, they will fight an eternal desire and test the strength of their trust — even as their oldest enemy plots their demise.
______________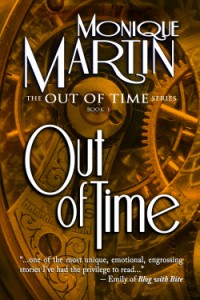 OUT OF TIME (Out of Time Series) – Monique Martin
When an accident transports Professor Simon Cross and his assistant, Elizabeth, to 1920s Manhattan, he runs straight into proof of the supernatural he's been searching for and a romantic entanglement he's been avoiding. Simon and Elizabeth's relationship is tested by demons real and imagined, for more than mobsters are vying for power in the city's speakeasies. Then a local kingpin with a dark secret sets his sights on Elizabeth, putting them in a fight for their lives.
______________
BESIEGED HEART (No Ordinary Lovers Novella Collection) – Jennifer Blake
If the castle falls to the siege of vicious Baron Ewloe, so will Princess Mara. Her trusted adviser and wizard offers to meet the baron in ritual combat, but she cannot send him to certain death. Rayne knows he can defeat the baron if Mara will make him her champion instead of sacrificing herself to save her people. If she must surrender to someone, Rayne vows it will be to him — and transports her to the future to achieve it. But will she forgive him afterward?
This set is available for a limited time.  And is priced at only 99 cents!