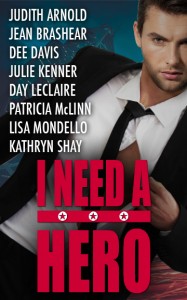 I'm delighted to announce a wonderful new boxed set that I'm a part of. I Need A Hero contains 8 great books from 8 fabulous authors, featuring 8 amazing heroes! And it's FREE. An iBooks exclusive.  Only available for a short time longer!!
I NEED A HERO
Looking for a hero?
When the nights are cold and the winds are howling, everyone needs a hero.  Someone to warm them until morning light.  Curl up with eight fabulous heroes.  Dark and dangerous.  Handsome and strong.  Tender and passionate.  Ready and able to fulfill your every desire.  Grab a glass of wine, a cup of tea, settle back and enjoy!
Eight wonderful books from eight bestselling authors. Heart pounding romances all bundled in 1 boxed set to warm you on a cold winter's night.
From western cowboy, to sexy superhero, to a hot, hot firefighter, a former detective that melts your heart, a mail-order husband, a groom that comes back for a second chance romance, a devilishly handsome immortal hero, and strikingly gorgeous single dads, you'll find a contemporary romance, western romance, and paranormal romance that fits the bill of romance hero!
You don't have to choose.  You can have them all because they're available together in 1 boxed set!
TAKING THE HEAT by Kathryn Shay
When Liam, the solid, down to earth O'Neil brother, meets firefighter Sophie Tyler, their attraction is immediate and intense. Passion explodes between them, but the effects on his children are too great to risk a permanent relationship. And because they can't call it quits, the situation is impossible. Will Sophie and Liam ever find a way to be together?
"Thoroughly satisfying, TAKING THE HEAT is an emotional roller coaster ride that hits many real life issues in today's world. As each O'Neil book comes out, I find myself drawn more and more into their world." —  Joyfully Reviewed
LOST AND FOUND GROOM by Patricia McLinn
Three cousins represent their family's last chance to break the curse on Far Hills,the Wyoming ranch they all love. First comes Kendra Jenner, a hardhead journalist who chases a story straight into a vicious hurricane … and unexpectedly into the arms of a rescuer who speaks virtually no English. Fear leads to passion leads to their making a baby, a child Kendra returns to Far Hills Ranch to raise after a fruitless search for the man she knew as Paulo. Now, three years later, "Paulo" knocks on her door, producing a storm of emotions: knee-melting relief that he's alive, confusion that he speaks perfect English and says he is Daniel Delligati, and wary protectiveness when he announces he's come for his son … and for her.
LOST AND FOUND GROOM is"…bursting with wonderful Patricia McLinn romantic touches — powerful characters, strong interplay and fiery moments."  — Romantic Times
HIS HEART FOR THE TRUSTING by Lisa Mondello
Mitch Broader has always dreamed of owning his own Texas ranch. When an old flame drops a baby on his doorstep, claiming he's the daddy, he's shocked. He can't change diapers and work a ranch at the same time. When Sara Lightfoot rescues him with her particular knack for handling his precocious son, he hires her on the spot as a nanny. Can they both get over their past to have a future together?
"Lisa was able to stir my emotions with some of the situations in the book, laughter when a cowboy learns how to give a baby a bath and tears when dreams look like they will take people in opposite directions." –Just Judy's Jumbles Book Reviews
MAIL-ORDER HUSBAND by Day Leclaire
In order to save her Texas ranch, Leah Hampton needs a husband, and fast.  So, she advertises for the "perfect" man to help her out of her predicament, Hunter Pryde. Hunter wants Leah–and her ranch–and she's not sure in what order.  Now Hunter's going to have it all: Leah, her ranch, and the sweetest revenge of all–Leah in his bed.
"Day Leclaire's MAIL-ORDER HUSBAND book was such an interesting, emotional, funny and romantic read–truly a must read, it was fantastic!" — Reader Review
APHRODITE'S PASSION by Julie Kenner
Mortal Tracy Tannin has always felt like the most ordinary girl in the world … until she finds a magical belt in her grandmother's attic. Now suddenly, everyone wants Tracy, including Hale, the sexy superhero who's been assigned to protect her. But surely his attraction is just a product of the belt, right? Because there's no way that a guy like Hale can fall for a girl like Tracy…or is there?
"Julie Kenner does it again! This follow-up to the hilarious and amazing APHRODITE'S KISS is filled with the same sense of fun and originality as the first. Excellent reading!" — RT Book Reviews
HELL FIRE by Dee Davis
Marcus Diablo, 3rd son of the Devil, needs the Devil's Delight to secure his succession. Celeste Abbot has spent all of her life looking for the ruby. And now that she's found it, only one thing stands in her way. A green-eyed pirate from her past. And when a devil meets an angel, all hell breaks loose.
"Amazing mix of charm, wit and unmatched sex appeal!" — Romantic Times, 4 Stars
TEXAS REFUGE by Jean Brashear
Haunted former detective Quinn Marshall provides a hiding place for beautiful soap opera star Lorie Chandler to protect her from an obsessed fan. When the madman hunts her down, Quinn's sole focus is on keeping the woman he's come to love safe, even though his success will mean giving her up to a life that can never include him.
"Loved Quinn from the moment I met him… Loved the chemistry loved his integrity, loved how he loved his brother and loved loved loved how he was with a 5 year old boy and his mother. So glad I read this series!"– Goodreads
FATHER CHRISTMAS by Judith Arnold
Police detective John Russo is the single father of a two-year-old son, and when baby-sitter has a family emergency and leaves abruptly, John's carefully rigged existence comes crashing down. He needs help, and fast. Molly Saunders co-founded the Daddy School to help men become better fathers. John is an A student in learning fathering skills, but Molly's lessons in love prove much more challenging.
"The Daddy School Series is the most heartwarming group of books I have read in quite a while…touching and funny, with so much love and caring in the characters that I couldn't wait to read all of them." — Reader Review
Don't miss out on this fabulous deal!  Download today!
Available exclusively at iBooks! Order now!