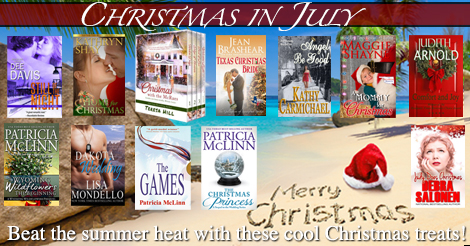 All year long, I look forward to the fun and sun of summer. Through the brutal winter months, I dream of relaxing on the beach and smiling as the summer sun shines down. That's why it's so strange that when summer is in full swing, I'm thinking of winter. Not just winter, but the month of December and all of the warmth and comfort of the holiday season.
Christmas time bring out the best in people. It's a time of kindness, joy and the occasional Christmas miracle. If that's what you're looking for, look no further. You can find all of those things right now, while avoiding the cold, the snow, and the shopping. Just grab one –or more – of these heartwarming Christmas stories and feel the joy of Christmas in July!
Still of the Night By Dee Davis
In the still of the night…
Christmas is coming and Jenny Fitzgerald couldn't care less. She's getting divorced, and her life is in tatters. And just when she's thinking it couldn't possibly be worse, her husband is killed on the job, an undercover operation gone bad. In the midst of her grief, Jenny is confronted with a killer. A hunter who will stop at nothing to see her dead…
Award winning author Dee Davis's holiday romantic suspense novella is re-released with a new epilogue!
Kobo:
A Mommy for Christmas by Maggie Shayne
Originally released in 2005 and titled, Feels Like Home, A MOMMY FOR CHRISTMAS has been substantially revised and contains brand new scenes never before published.
A heartwarming, tear-inducing, holiday miracle kind of story you'll never forget…
All Tyler wants for Christmas is a Mommy.
Not to walk without his crutches, or to skip his next surgery. Just a mommy.
His father, Chicago Cop Jimmy Corona is determined to find him one in his hometown of Big Falls Oklahoma. But trouble follows him there, trouble that could get them both killed.
Once shy and awkward, Kara Brand has blossomed into a graceful beauty with the biggest heart in the state of Oklahoma. Jimmy thinks she's the perfect mommy-candidate, and she falls in love with little Ty at first sight.
Jimmy plans to win her and wed her, not to love her. But he never intended for her to get caught in between a murderous criminal and his little boy.
The Oklahoma All-Girl Brands: Big family, small town, and love to spare!
The Brands Who Came for Christmas
Brand New Heartache
Secrets and Lies
A Mommy For Christmas
One Magic Summer
Sweet Vidalia Brand
LINKS:
Angel Be Good by Kathy Carmichael
Heartwarming, Sexy and Fun
Billionaire CEO Nat Danvers has good looks, money, power, prestige—everything—except the one thing he really needs. But only in the loneliest corners of his frozen heart is he aware something is missing. Christmas Eve arrives to find Nat alone in his penthouse office, filling out layoff notices while his employees unknowingly celebrate at the office holiday party. In breezes the most incredibly beautiful woman he's ever seen. Daphne, part angel, part human, has been sent by the Angelic Council to teach Nat some tough lessons in the hope his hardened heart will melt. She has only one night in which to help him. With the clock ticking before she must go, can love find a way to touch them both?
LINKS
Christmas With The McRaes by Teresa Hill
Spend Christmas with the McRaes, Books 1, 2 and 3 in the series plus a brand new, bonus novella, Welcome Lizzie.
********************************************
TWELVE DAYS — Book 1
Twelve Days before Christmas, Rachel McRae opens her front door and a social worker puts a baby in her arms — one who comes with a four-year-old boy and an eleven-year-old girl — siblings abandoned and in need of a temporary home.
Rachel and her husband, Sam, have dreamed of a house filled with children — a dream that has led them to repeated heartbreak. Sam McRae has finally decided the only thing left to do is leave his wife.
Reluctantly, Rachel and Sam take the children in, but just until after Christmas. They will do their best not to fall in love with them, not to get their hopes up that this time a miracle will happen. That these children will stay, and that their marriage can still be saved.
********************************************
EDGE OF HEAVEN — Book 2
She looks at him and thinks, "Please don't let him be more than twenty-five."
He looks at her and thinks, "Please let her be at least twenty-five."
Neither one of them is.
And that's only one of their problems.
Rye is a man with an ugly past. He didn't come to Baxter, Ohio, looking for a woman, but there she was. Emma is pretty and sweet, and the kind of woman he'd always wanted, but never dreamed he could have. Her innocence and vulnerability tugs at Rye's weary heart, and the sizzling sexual pull between them can't be ignored.
But Emma has a dangerous ex-boyfriend, plus an outraged, overprotective father with a family connection that dooms Rye and Emma's relationship from the start. That and Rye's dangerous past make it seem impossible for them to have a future together.
********************************************
BED OF LIES — Book 3
One very bad night, after more than a few drinks, the most perfect guy in the world falls apart and ends up in bed with Julie.
She understands. It happens. It doesn't mean anything, she says, but she's lying to herself. It blows up her life and his — a specialty of Julie's.
Growing up, Zach McRae was her best friend's older brother, sweet, protective and perfect. He shows up out of the blue at her engagement dinner and instantly sees right through all the lies she's told herself. Like that she's fine, even happy and right where she wants to be.
Zach, also, is no longer the perfect guy of her childhood, although he's trying desperately not to let it show. His life is increasingly and uncharacteristically out of control.
It's time for he and Julie to face some hard truths from their past, plus puzzling ones from their present. Like that they can't stop thinking about each other, can't stop wanting each other, and can't stop ending up in bed together.
********************************************
BONUS NOVELLA ONLY AVAILABLE IN THIS BOX SET:
WELCOME LIZZIE
Catch up with the whole McRae family as its newest member, Emma & Rye's daughter, Lizzie, is born.
Also, get a sneak peak at the hero and heroine of Teresa Hill's New Adult series, McRaes/Next Generation, featuring Emma & Rye's oldest daughter, Dana, and Zach's fiancée's younger brother, Peter, coming in early 2015 in Saving Myself For You.
(Dear Readers, Welcome Lizzie takes place a few months after Bed of Lies ends and well before the next book in the series, Five Days Grace, begins. If I could give it a number in the series, it would be 3.5, but Amazon doesn't allow that kind of numbering. You won't be lost if you choose to read Five Days Grace without reading the novella. Also, while you see Grace in the novella, there are no spoilers in it for Grace's book.)
Comfort & Joy by Judith Arnold
In the season of miracles, the greatest miracle of all is love.
For Robin Greer, Christmas is about tradition and family. After her army-brat childhood, she wants nothing more than to plant solid roots and create a stable, permanent home for her young son, Philip. Christmas is a time to celebrate that home, and she and Philip celebrate in style, decorating their house, baking treats and listening to holiday music.
Jesse Lawson's view of the holiday is quite the opposite. Growing up in an oppressively pious family, he has rejected religion. To him, Christmas is about hypocrisy and commercialism. A legal aid attorney, he can't enjoy the spirit of the season when his inner-city clients are facing eviction in the middle of a cold New England winter.
Yet he can't resist Robin and her open-hearted embrace of all things Christmas. And she can't resist this thoughtful, questioning, complex man who seems to understand the true meaning of the holiday better than she does.
Winner of the Romantic Times Reviewers Choice Award.
Dakota Wedding by Lisa Mondello
From New York Times and USA Today bestselling author Lisa Mondello, the western romance DAKOTA HEARTS series continues with book 6, DAKOTA WEDDING.
Ian McKinnon was just getting steady on his feet, looking forward to the opening of the Wounded Veterans Center and a big McKinnon wedding celebration, when tragedy struck again. The soldier who'd saved his life while in the military has died. He's charged with his most important mission: find his friend Carlos's family in Mexico or become guardian and raise Carlos's children. The only mandatory stipulation of his friend's will was that Ian live under the same roof with Abby Townsend, a firefighter from Carlos's firehouse. Abby knew the kids well and she could help ease them all through the transition of becoming a family. Okay, so Ian may not be daddy material, but he'd grown up with a whole lot of McKinnons running around. He could handle the kids just fine. The beautiful Abby Townsend was another story.
Abby took one look at Ian and shook her head with utter disbelief. What were her dear friends thinking by naming a man whose nickname was "The Hazard" as guardian of their three small children? She only needed to spend one year in Ian's house in South Dakota. She had to either find Carlos's family, or convince Ian that she was the better person to raise the children. Abby knows how hard it is to lose someone you loved. She'll be there to protect the children in any way she can. But can she protect her heart from falling in love with a man known for taking too many risks…and risk heartbreak again?
DAKOTA HEARTS series:
Book 1 – Her Dakota Man
Book 2 – Badland Bride
Book 3 – Dakota Heat
Book 4 – Wild Dakota Heart
Book 5 – His Dakota Bride
Book 6 – Dakota Wedding
and coming in 2015, check for more Dakota Hearts books.
If you're a fan of western romance, contemporary romance, stories full of angst and emotion, and sexy cowboy and military heroes, then you'll enjoy the Dakota Hearts, Texas Hearts and Fate with a Helping Hand series of romance novels.
Home for Christmas by Kathryn Shay
HOME FOR CHRISTMAS was formerly published as A CHRISTMAS LEGACY, part of a series for Harlequin. The book has been revised to be a stand alone novel in its own right. It was nominated for RT Book Reviews Best Superromance in 2000 and Kathryn Shay was named Storyteller of the Year in 2001, both by RT Book Reviews.
"Ms. Shay explores the emotional balance between anger and forgiveness via richly drawn characters and compelling conflict." RT Book Reviews
When Jacob Steele returned home after fifteen years, it wasn't to reconnect with the town that loved him. Instead, his motivation was purely financial. He needed capital and he wasn't above claiming the inheritance bequeathed to him by the father whom he felt betrayed him. Unfortunately for the man who now calls himself Jay Lawrence, the inheritance comes with conditions. These conditions will keep Jay in Riverbend for a month working in the family bookstore. If he decides not to fulfill the terms, the bookstore and the farmhouse he used to cherish, go to the manager, Kate McMann. Jay isn't about to let a woman, whose ambiguous relationship with his father is questionable, get her hands on his inheritance. He sets out to confront her never knowing that she and her twin daughters would change his plans, not to mention his life, forever.
"Kathryn Shay is one of the most talented authors on the category romance scene. Her books are always intelligent, her characters realistic, and her plots believable. Hope Santa drops this one into your stocking!" The Romance Reader
"Shay has written a heart wrenching, deeply moving story of the restorative power of love." Old Book Barn Gazette
Judy Does Christmas by Debra Salonen
Judy Banger has a secret. She's no fan of Christmas. She's suffered through fifty-four of them and, too late, she discovers she's married to Wiley "Santa Claus" Canby. In four short months of marriage, Judy and Wiley have crossed off more items on their bucket list than most people do in four years. But, now it's December, and Wiley wants to throw a big, blow-out holiday party to show off his new wife. Unfortunately, Judy's never hosted a gala party in her life–especially not one that includes a cross-section of friends and family that makes Modern Family look like the Waltons.
What could possibly go wrong?
Texas Christmas Bride by Jean Brashear
From New York Times and USAToday bestselling Texas romance author Jean Brashear…
It's the first Christmas in Sweetgrass Springs, Texas for several newcomers who have found a real home for the first time—or found home again. As Jackson Gallagher works to save his hometown from withering away by relocating his business empire there, the only gift he really wants is to marry the teenage sweetheart he thought he'd lost forever—but Veronica Patton Butler has other hearts to care for, however much she loves Jackson.
Bridger Calhoun is more than ready to make Penelope Gallagher his bride, but however much she adores him, Shark Girl is dragging her heels on tying the knot—which seems to be a maddening tradition among Gallagher women.
Come join the fun…the heartache…the sweetness, as Sweetgrass prepares for a community celebration that will bring the Morning Star Gallaghers and the Marshalls to town, along with several of Jackson's Seattle geeks and more than one lost soul about to find a place to belong—
In eccentric, lovable, unforgettable Sweetgrass Springs…where hope never fades and love never dies
HOLIDAY COOKIE RECIPES INCLUDED!
"Jean Brashear writes with warmth and emotional truth. The depth of her understanding of human nature marks her as a writer to watch." ~Debbie Macomber, #1 New York Times bestselling author
The Texas Heroes series includes:
TEXAS SECRETS
TEXAS LONELY
TEXAS BAD BOY
TEXAS REFUGE
TEXAS STAR
TEXAS DANGER
TEXAS ROOTS
TEXAS WILD
TEXAS DREAMS
TEXAS REBEL
TEXAS BLAZE
TEXAS CHRISTMAS BRIDE
The Games by Patricia McLinn
Medals can be won, careers can be made, hearts can be lost.
From the pomp of Opening Ceremonies to the good-byes of Closing Ceremonies, join three remarkable women during the Winter Olympics. Tessa Rutledge, once an Olympic champion figure skater, returns as a coach, encountering her first love – and heartbreak – and testing her ability to forgive. Alpine skier Kyle Armstrong has made a mistake that could cost her Olympic gold and any hope of reconciling with the man she loves. Biathlete Rikki Lodge is just happy to be at the Games, until she meets a hockey player who demands that she puts everything on the line.
Let The Games begin!
The Surprirse Princess by Patricia McLinn
A Princess for a few weeks …
The coming Christmas season isn't looking great for April Gareaux. Her job is uninspiring, her engagement is off, and she has nowhere to live. Certainly her family would take her in, especially Leslie and Grady Roberts and their circle of friends who have become her extended family. But it's time she stops relying on them.
Then comes an extraordinary offer – spend the holidays in Washington, D.C., with King Jozef of Bariavak as his possible long-lost granddaughter. Even more extraordinary is the man behind the offer and the one who will be beside her through the coming weeks, Hunter Pierce.
This is the last assignment Hunter would pick. Determination and grit have moved him beyond his past in Bariavak. Yet, here it is standing in front of him again, refusing to be ignored. … Just like his reactions to April. How can he fight what he's feeling when they're together all the time.
King Jozef has known tragedy in his life. Now, comes this lovely young woman bringing joy to his holidays. How can he resist dabbling in some royal matchmaking. Wouldn't it be delightful if he could give April a Christmas gift she will never forget …
… Her Prince for a Lifetime
The Wedding Series
Prelude to a Wedding
Wedding Party
Grady's Wedding
The Christmas Princess
The Surprise Princess
Wyoming Wildflowers: The Beginning by Patricia McLinn
Enjoy the entire Wyoming Wildflowers collection
Wyoming Wildflowers: The Beginning (Snowberry) – prequel
Almost a Bride (Indian Paintbrush)
Match Made in Wyoming (Fireweed)
My Heart Remembers (Bur Marigold)
Jack's Heart (Yellow Monkeyflower), new release in 2015
LOVE AT FIRST SIGHT
One look, a passionate love . . . and then they part . . . Forever?
Before the bestselling and award-winning Wyoming Wildflowers saga began, there was another love story, one that laid the foundation for all those that came after. A love between a cowboy and an unexpected woman. A love at first sight …
Ed Currick's and Donna Roberts' worlds couldn't have been any more different – a rancher from Wyoming and an up-and-coming Broadway musical actress on a national tour. What could have been a momentary encounter sparks desire . . . and more. But can there be anything but heartbreak ahead when they have only days before their dreams pull them apart?
"Funny, entertaining, and full of surprises"…"Warms your heart"… "Joy"…"Wonderful love story"
Get this much-anticipated prequel to the western romance saga of the Wyoming Wildflowers series by USA Today bestselling author Patricia McLinn now!