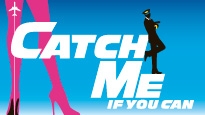 So it's that time of year again.  Spring shows are previewing and we've been excitedly hitting the theatres again.    Our first stop this year was Terrence McNally's Catch Me If You Can at the Neil Simon theatre.
The musical is based of course on the wonderful Tom Hanks/Leonardo DiCaprio movie of the same title.  And I'll confess I was a little concerned about it being set to music as it were.  But Norbert Leo Butz (in the Tom Hanks role) is one of my most favorite Broadway actors and so I put my doubts aside and headed for the 5th Avenue Theatre.   And boy was I glad I did!   The show is really wonderful.  With the same spirit that made the movie so charming.  The story is basically the same, with only a shift in the way it's framed to make it work as a musical. 
Aaron Tveit plays the part of Frank Abignale, Jr.   And does so with aplomb.  His charm is palpable and he makes the part his own, even as he's channeling Leonardo DiCaprio.  And the aforementioned Butz playing Hanratty is sublime, almost Columboesque in his mannerisms and carriage.  Together, the two actors carry the show at breakneck comedic speed.  And watching the development of their somewhat peculiar yet heart-tugging relationship is every bit as wonderful here as it was in the movie.
Tom Wopat and Rachel de Benedet are fabulous as Frank's parents.  As is Kerry Butler in the role of Brenda.  And the rest of the cast are equally talented.  I particularly enjoyed Brenda's parents and their antics as Frank comes home with Brenda to meet them, and accidentally becomes a lawyer.  (As well as a pilot and a doctor).

But the real star of the show is the music.  Mark Shaiman and Scott Whitman (of Hairspray fame) grab the audience right from the top with the opening number Live, In Living Color.  And it only gets better from there.   Butz has several show-stopping numbers including  Don't Break the Rules and the Man Inside the Clues.  And Tveit proves to be as talented as he is charming (even from the mezzanine you can feel Frank's joy for life and unending need to please his father).  He has many numbers including Live, in Living Color and my favorite, Jet Set.  And Butler's number Fly Away in the second act is beautifully sung as well.
The sets and costumes reflect the era and the use of the orchestra as a backdrop only adds to the fun.  All in all, Catch Me If You Can is a lovely way to spend an evening.  And I guarantee you'll emerge from the theatre smiling!
What's your favorite musical?