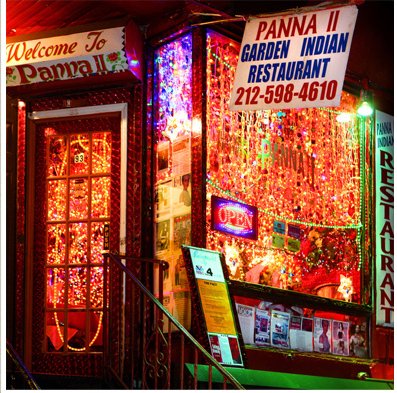 Had a fabulous dinner with family recently.  A place in the East Village called Panna II Indian Restaurant.   According to the scuttle, the place is owned by brothers who were cooks on a freighter who abandoned ship and never looked back.  No idea if it's true, but it makes the place even more fun, don't you think?
First thing you see upon arriving at 93 First Ave, is three restaurants in the space of well…one.  One is downstairs and the other two are upstairs.  They all immediately try to get you to choose theirs, but we stuck with the one on the right upstairs as that's where our group was meeting.  (I also heard that most people believe that there's really only one kitchen for all three restaurants and like the brothers' story, it makes for conversation.)
Inside it's like entering a dimly lit cave festooned with literally hundreds of chili pepper and

twinkling lights.  Very cool, but definitely requiring a bit of ducking for those of us over 5'5".  Tables are crammed together, as is often the case in Manhattan restaurants, so if you sit next to the wall, once you're in—you're in.   Which meant I couldn't rise to greet folks when they arrived, but no matter, it was well worth being landlocked, so to speak.
There's no liquor license so those in the know, not me—but fortunately I was eating with people who were regulars—bring their own beer and wine.  There's apparently a great store next door, although I never actually saw it.  (Another three doors down is supposedly one of the best Indian markets in town).  Anyway, once everyone arrived and drinks had been poured it was time to study the menu.
I learned to eat Indian food when I was living in Vienna and have loved it ever since.  And I not only eat it out, I cook it in.  So I know my way around a menu, but I'll have to say that this place had some fabulous new entrees I hadn't seen as well as the old familiars.   We started with poppadoms and then ordered a round of samosas which arrived hot and perfectly fried (meaning once you're finished you don't feel like you'd dunked your head in a vat of grease).   The pastry was tender and the potatoes and peas spiced perfectly.
I ordered chicken Kashmir, which also arrived fragrant and hot.  And I must say I savored every bite.  In addition, I'd asked for it mild and it did in fact arrive without the spices that make my lips tingle.  I love Indian food, but what can I say, if it's too spicy it doesn't love me.  Everyone else was oohing and ahhing their entrees as well.  Not to mention sharing bites.  And the festive atmosphere made for a perfect evening.
And one of the best parts of the meal—in a crazy NY way—was the moment when the
hundreds of chili peppers dimmed and a disco version of "Happy Birthday" broke out over the loud speakers.  The twinkling lights went on over-drive and I wanted to break into Saturday Night Fever mode.
The moment passed however, and it was back to good food and great company.  A perfect evening.
I've heard that it's crowded on weekends so reservations are a must!
Panna II Indian Restaurant
93 First Ave.  (Between 5th and 6th Streets)
212-5984610
(all photos from Panna's website)