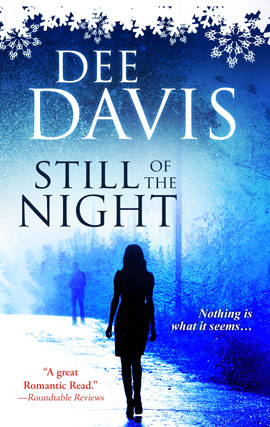 So I've just had my first venture in to the world of re-releasing backlist.  My holiday romantic suspense novella, Still of the Night (orginally in the Anthology Silent Night), is now available for download on both Smashwords and Amazon.com.  It should be available on Barnes and Noble and iBooks shortly.  It's definitely a brave new world.
In the still of the night…
Christmas is coming and Jenny Fitzgerald couldn't care less. She's getting divorced, and her life is in tatters. And just when she's thinking it couldn't possibly be worse, her husband is killed on the job, an undercover operation gone bad. In the midst of her grief, Jenny is confronted with a killer. A hunter who will stop at nothing to see her dead…
Next up—the Time Travel Trilogy:  Everything In Its Time, Wild Highland Rose, The Promise
And congratulations to winners Terri, Jean, Peggy, Glenda, Arianne, Lara, Lynn, Sandi, Jackie, and Lynn!  They each won a hard copy of my A-Tac e-novella Daring!