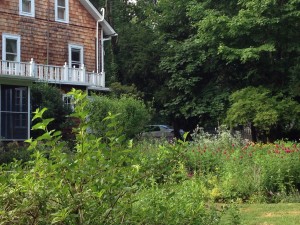 Hard to believe that I'm actually here!   But I've been in Connecticut now for just over two months.  And I'm finally feeling like I'm not buried in boxes.  Still having troubles figuring out where everything is, but hey, it's a good problem to have, right?  The gardens are still spectacular even as summer is fading.  Half the fun has been discovering various plants as they begin to bloom.  Lady's Mantle, Bee's Balm, Phlox, Peonies, Hydrangeas, and a myriad of other spectacular plant life.
Bleeding hearts are a new discovery.  Along with wild ginger and some of the most incredible iris I've ever seen.  Also there are pinks, and butterfly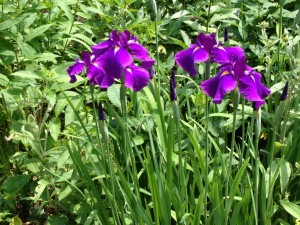 bushes.  Three gorgeous Rose of Sharon trees.  And the lilacs in early spring were amazing.  I have a wisteria that is crazily still in bloom.  No idea why, but I'm not complaining.  I even found to roses buried amidst a huge thicket of other growth.  A red and a white.  Can't wait until this winter to get in there and cut them free.
Obviously this is a garden that has been well loved.  There are columbines, ladies slippers,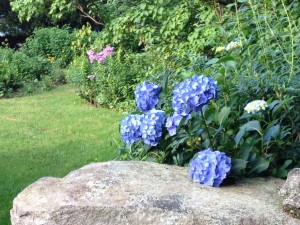 lilies of the valley, day lilies, black-eyed susans, daisies and several flowers I've yet to put a name too.  I'm hoping next year to add dahlias and maybe gladiolas.  And definitely some tulips.  And maybe even some larkspur or foxglove. The height would be nice I think.  I've got herbs growing on the patio and also a small tomato plant, currently harboring four tomatoes.   We've got a wildlife all over the place, so no room for a full blown vegetable garden until we can build a fenced area.  So far I've seen rabbits, squirrels, chipmunks, groundhogs, dear, and a couple of as yet unidentified rodents.
And that's just the garden.  The house, as old as it is, is full of discoveries too.  But that can wait for another time!   For now, I'll just say how glad I am to be here.  And how glad I am that you can join me once in a while!