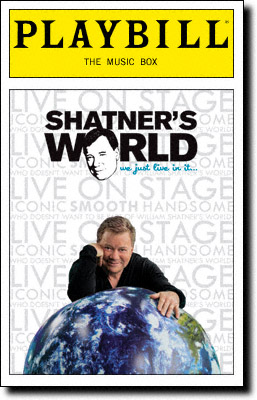 This Valentine's Day I had the delightful opportunity to attend the first night of previews for William Shatner's limited-run one man show.  And I have to say I thoroughly enjoyed it.  I mean first of all it was Captain Kirk.  CAPTAIN KIRK!  And second of all I've always had a weak spot for intelligent, quick-witted men.  And at 80, William Shatner
still has that twinkle in his eye.
And with a career that spans Canadian theatre, the days of live television, the creation of iconic characters like Kirk and Denny Crane, and a most interesting take on "singing" Lucy in the Sky with Diamonds, there are definitely stories to be told.
Accompanied by video and photographs, Shatner, a commanding presence and voice, holds court for just under two hours, keeping the audience alternatively laughing and listening—sometimes so closely, you could have heard a pin drop.   Sound problems (not unheard of on a first preview night) were dealt with handily and with humor.  I feel like I know Peter the sound
man.  And Shatner's ability to react to whatever happened, made the evening feel more intimate than had it gone perfectly.
As a child who grew up on the space program and Star Trek (yes, I even own the new rebooted edition) I particularly enjoyed the parts of the evening that pertained to these subjects, but also found the stories of Shatner's life and exploits charming and funny as well.  If you're looking for a tell-all, this isn't it.  But if you're looking for a man who has led a fascinating life predicated with saying 'yes' to new challenges—or if you just want to see Captain Kirk—this is a great show.   
Shatner makes no apologies for who he is.  And I, for one, am better off for having been inside his world—even if only for an evening.
Shatner's World, Music Box Theatre, 239 W 45th Street (thru Feb 24th).  http://shatnersworld.com/broadway.html