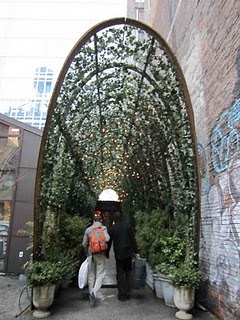 Okay, I'll admit that first of all I love to eat.  And second of all, I love to eat breakfast the most.  And this past week I had the chance to have the Best. Breakfast. Ever.   Seriously, and for me that's saying a lot.   A dear friend of mine was in town and the only time we could get together was for a quick breakfast at her hotel.
Color me jaded, but I'm not that big on hotel restaurants.  I find they're either over-the-top celebrity kinds of places or they're just filling space and not meant to be anything but overpriced and inadequate culinarily speaking.  So I wasn't expecting anything but a wonderful hour of chatting with my friend.
I was in for a big surprise.   The hotel, the Mondrian in Soho, is tucked away on Crosby Street behind a long and lovely arbor.   When my friend said look for the arbor I pictured a smallish arch, this was a long leafy walkway that made me feel like spring might actually arrive in New York after all.
At the end of the arbor was a very friendly doorman who pointed me in the direction of the
restaurant.  Imperial No. Nine.   Chef Sam Talbot (of Top Chef fame) has created a 150-seat sustainable seafood restaurant.   And from what I've read it's fabulous.  But I was there for breakfast, and except when I was in Japan, I sort of tend to avoid fish in the morning.   So I was curious to see what my options might be.
Having arrived first, I had the opportunity to survey the absolutely gorgeous dining room on my own.  As you can see from the picture, it's a vision of glass.  The centerpiece, by acclaimed artist Beth Lipman, bisects the room with a  magnificent Alice-in -Wonderland-like rendering of crystal vases and glasses at all sorts of angles and heights and apparent abandon.   The soaring glass roof gives the feeling of an oversized Victorian garden room.  Quiet and lush, it's the perfect setting for that first jolt of caffeine.

In my case, iced tea, that I think they made fresh just for me.  It was delightful.  And once my friend arrived it was time to order.  Although  I was tempted by the french toast with caramelized white pineapple and Tahitian vanilla cream cheese, I decided instead to go for the "perfectly poached" brown egg.  It was offered several ways, but I went the traditional route and ordered egg, biscuit and turkey sausage.  (The dish was actually designed to be served with gravy, but as much as I love the stuff, I've never liked it with breakfast—so I opted out and boy am I glad I did.)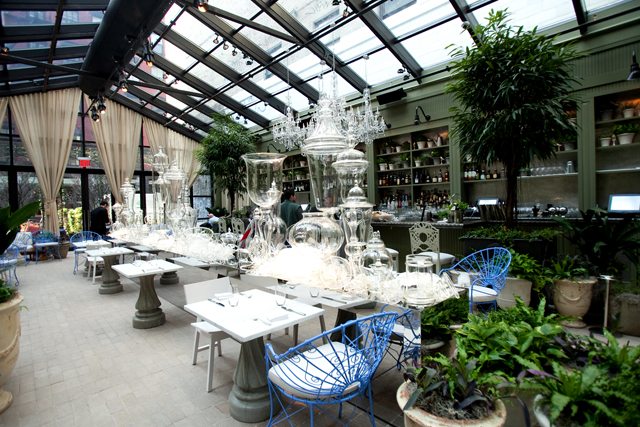 Seriously people,  BEST POACHED EGG EVER.   The food came in a bowl, with the biscuit and sausages on the bottom and the egg gently laid over the top, the combination of the three flavors; the creamy egg, the slightly sweet and very tender biscuit and the salty sagey sausage was sublime.  And being a food in its own compartment kind of a person, I wasn't certain how I'd feel about everything mixed in with everything else, but it was amazing.  The perfect combination.  And more importantly, the perfect amount.   Exactly what I needed to start my day.
My friend's breakfast was also amazing.  Fresh granola with some sort of creamy concoction on top that was divine.
So two thumbs up from me for Imperial No. Nine at the Mondrian.   If breakfast is any kind of an example, then I'm guessing the seafood (which is Mr. Talbot's specialty) must be incredible.   But for me, I'll be heading back for the eggs.
So how do you like your eggs?
Imperial No. Nine, Mondrian Hotel, 9 Crosby  (btw Grand and Howard), 212-389-1000