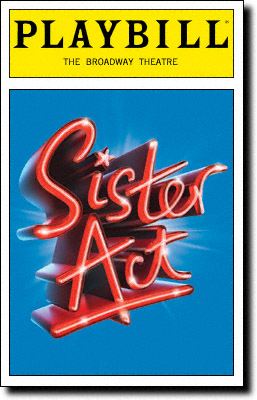 So my daughter wanted to see Raven Symone in Sister Act.  She'd watched Raven on television when she was little, so it was fun for her to see her all grown up.  I was a little more hesitant.  I loved the movie with Whoopi Goldberg so was less certain that I'd like the musical.  Still, Ms. Goldberg played a big role in bringing it to Broadway, so I figured it would be a fun afternoon.
And I was right.  While it definitely doesn't fall into my top ten (or even twenty) musicals, it was a lot of fun.  And Ms. Symone was a delightful Delores.  She had the requisite twinkle in her eye.  But even more impressive were her supporting cast members, including, Carolee Carmelo, Sarah Bolt and Marla Mindelle.
Ms. Carmelo played the mother superior and had an absolutely wonderful song in Here
Within These Walls.   And Marla Mindelle brought down the house with The Life I Never Led.   And the nuns, with the assistance of Delores, finding their voices in Raise Your Voice filled the theatre with laughter and made everyone smile.
Lady In The Long Black Dress was also an enjoyable number.  Sung by a trio of thugs working for the man chasing Delores, the song is about how the trio is going to seduce their way into the convent.  And although the constant poking fun at the late seventies and early eighties got a little old, it worked nicely for this song.
The Broadway Theatre is quite large.  Much more so than most of the theatres in New York.  It definitely makes for a less intimate experience.  We also saw The Color Purple there, and I felt then, as well, like I was in an auditorium rather than a theatre.   But all in all, I was pleasantly surprised by the musical, and had a lovely afternoon with my daughter.
Sister Act closes Aug 26th.
Broadway Theatre, 1681 Broadway.