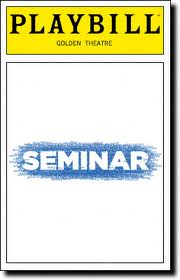 Okay first I have to say that I have loved Alan Rickman since the first time I saw him in Truly, Madly, Deeply.  And he's only gotten better and better and better.  So the chance to see him on Broadway was a dream come true.  Second off, my husband also loves Alan Rickman, but still managed to forget that we were going to the theatre, so I wound up seeing the play without him (but with my daughter which was every bit as wonderful).
And the play (as well as the man) did not disappoint.  In fact, unlike several star turns I've seen of late, I was impressed
with the quality of the entire cast.  Comprised of only five people it was great fun to watch four of them spar with each other as Rickman served as instigator.  Particularly wonderful was Lily Rabe, whose character pulls the audience right into the class with her.   I'd seen Rabe (who is Jill Clayburgh's daughter) in Steel Magnolias a few years back and was delighted to have the chance to see her again, but her performance definitely outshone any preconceived notions I might have had.  She's a delight.
Hamish Linklater who's pivotal role is understated throughout was no less enjoyable to watch.  He was so believable as a writer and student, I almost forgot at one point that I was watching a play.  He superbly embodied both the of the fragility of writers and the idealism of students.  Supporting characters played by Jerry O'Connell and Hettienne Park were also excellent and rounded out the cast nicely.
But the center of the piece obviously was Rickman.  He has aged gracefully (as I fear I perhaps have not) and still has that magical voice that rivets you to your seat even when he's speaking expletives.   The dichotomy of his character was well written and even better acted.  And I so enjoyed every minute he spent on the stage.  Although I'll admit to one moment where I broke from the play wanting him to say "Potter" just once.
The play, a world premiere, written by Pulitzer Prize nominee Theresa Rebeck is about four aspiring writers taking a private seminar conducted by a world renowned writer
(Rickman).  It is by turns hilariously funny, vicious, sexy, witty and poignant.  The story and its characters weave to a bittersweet conclusion that leaves the audience satisfied but still thinking.
Well-acted and well written, I highly recommend it.  I may have gone to see Alan Rickman, but I came away loving the play.
Seminar, Golden Theatre, 252 W. 45th St. between Broadway & 8th Ave